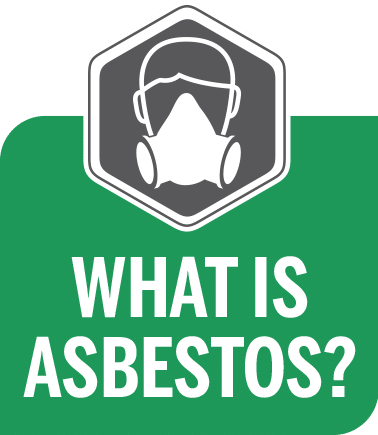 Asbestos is the generic name for a number of naturally occurring silicate mineral fibres. Asbestos is a versatile product. Due to its ability to withstand heat, erosion and decay, and for its fire and water resistant properties, asbestos was widely used in building materials. Despite the use of all forms of asbestos being banned nationally, building materials containing asbestos are still prevalent in our community today. The most commonly found building materials that contain asbestos are asbestos cement products.

Asbestos has been mined in South Africa since 1930 and was a popular material used in over 3000 different products in the building and engineering industries over more than a century. Asbestos exposure resulted in many deaths as a result of diseases such as asbestosis, lung cancer and mesothelioma.
Although the use of asbestos in new work has been banned in South Africa since 2008, there are many asbestos containing materials (ACMs) that are still in use today.
Employees may unknowingly be exposed to asbestos during maintenance, decorating, renovating or even demolishing of redundant plant equipment and buildings.
Injudicious disturbance of asbestos may contaminate workplaces, which may present a serious health risk to employees, occupants or even members of the public.
Where can Asbestos be found?
Because the level of exposure that may cause health problems is unknown, any exposure to asbestos should be avoided. It is estimated that at least one in every three buildings constructed between the 1940's and 1990's contains asbestos products.
Asbestos may be found either firmly or loosely bound in a number of products once used in the South African construction industry, including:
Roof Sheeting and Shingles

Facia boards, sidings, gutters and window sills

Prefabricated building walls or internal partition walls

Insulation products in walls and roofs

Vinyl floor tiles
Textured paint and patching compounds used on walls and ceilings

Hot Water and Steam pipes coated with asbestos material, blankets or lagging for insulation

Boiler cladding

Water pipes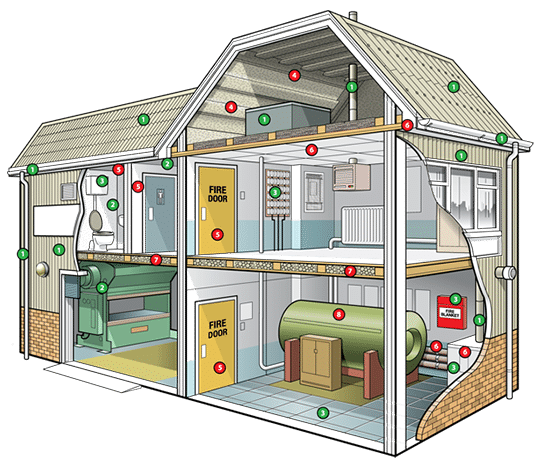 When is Asbestos dangerous?
The most common way for asbestos fibres to enter the body is through breathing. In fact, asbestos containing material is not generally considered to be harmful unless it is releasing dust or fibres into the air where they can be inhaled or ingested. Many of the fibres will become trapped in the mucous membranes of the nose and throat where they can then be removed, but some may pass deep into the lungs or, if swallowed, into the digestive tract. Once they are trapped in the body, the fibres will cause health problems.
Asbestos is most hazardous when it is friable. The term friable means that the asbestos is easily crumbled by hand, releasing fibres into the air. Sprayed-on asbestos insulation is highly friable.
Asbestos-containing ceiling tiles, floor tiles, undamaged laboratory cabinet tops, shingles, fire doors, siding shingles, etc. will not release asbestos fibres unless they are disturbed or damaged in some way. If an asbestos ceiling tile is drilled or broken, it may release fibres into the air (The act of breaking or drilling into Asbestos Sheeting is illegal and can only be approved by the department of labour and can only be performed by an approved asbestos contractor). If it is left alone and not disturbed, it will not release fibres into the air.
Damage and deterioration will increase the friability of asbestos-containingmaterials. Water damage, continual vibration, aging and physical impact such as drilling,grinding, buffing, cutting, sawing or striking, can break the materials down making fibre release more likely.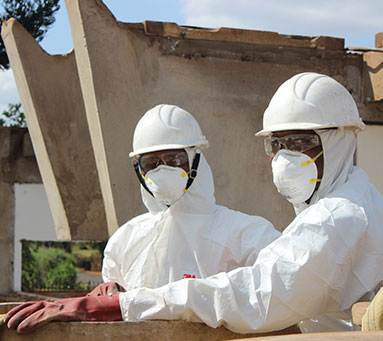 How can I be Exposed to Asbestos?
Asbestos is a risk to health only when the fibres are dispersed in the air and inhaled into the lungs. When asbestos is contained within another material and fibres are not liberated, the risk to health is minimal., However, any work or process that disturbs the fabric of the asbestos-containing material (ACM) and that releases fibres, such as drilling, cutting, high pressure cleaning, demolishing or even natural deterioration and weathering of the ACM, introduces a serious threat to human health. Materials that are made from pure asbestos or that contain high percentages of asbestos, such as insulation and lagging material, are far more dangerous than low percentage ACMs, such as asbestos-cement products.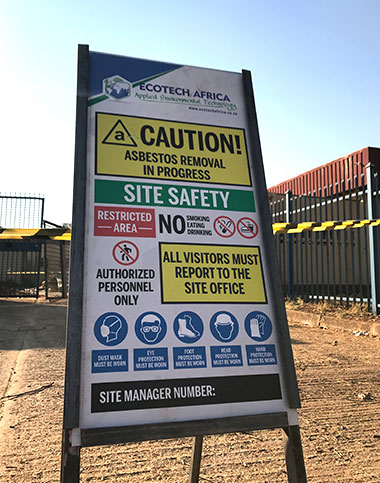 How may I be in Danger?
Any person that, knowingly or unknowingly, performs work on asbestos or ACM, and any person that happens to be in the vicinity of such work, is in danger. Particularly at risk are people in the building and construction related professions such as roofing contractors, heating and ventilation engineers, building and demolition contractors, electricians, plumbers, joiners, tradesmen, carpenters, painters, etc.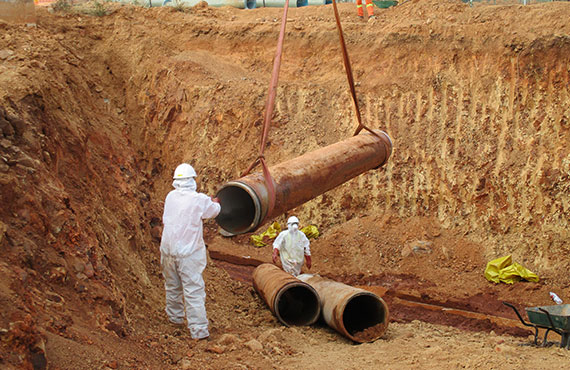 How Big is the Problem?
The World Health Organization (WHO) estimates that worldwide there are more than 100 000 asbestos related deaths per year and that, currently, 125 million workers are exposed to the deadly fibre. In the United Kingdom, the death toll is estimated at approximately 3 500 per year and, in the USA, 10 000 per year. This is nothing less than a global epidemic!
In South Africa about 200 mesothelioma cases are reported per year but this is most likely an underestimate considering the magnitude of mining and processing that took place in a country that was a leading global supplier of all types of asbestos.

How do I Recognise Asbestos Material?
The World Health Organization (WHO) estimates that worldwide there are more than 100 000 asbestos related deaths per year and that, currently, 125 million workers are exposed to the deadly fibre. In the United Kingdom, the death toll is estimated at approximately 3 500 per year and, in the USA, 10 000 per year. This is nothing less than a global epidemic!Asbestos in buildings is present in either loose, friable form (such as loose insulation material) or, more often, hidden within another material (such as asbestos cement products). Fibres might be visible in the friable form but are seldom seen in asbestos-cement and similar products. In both cases it is not possible to identify asbestos with certainty by visual examination alone and laboratory analysis is often required. Since March 2008 asbestos is effectively banned in South Africa, and it is unlikely to find asbestos containing materials in buildings constructed after that year. The golden rule is always: when in doubt assume the material contains asbestos!
Ecotech Africa recognises the need

Waste Water (Sewage) Treated (Liter)

Wash bay Effluent Water Recycled (Liters)

Asbestos Safely Removed & Disposed (Kilograms)

Highlight From OHSA (Act 85 of 1993), Asbestos Regulations 2011
An assessment of potential exposure must be conducted at intervals not exceeded two years.
A written inventory of the location of asbestos in workplace, buildings, plant or premises must be made and maintained.
Written safe work procedures must be laid down and followed during maintenance, alterations, renovations, repairs and dismantling of buildings that contain asbestos cement sheeting and related products.
An Asbestos Plan of Work that has been approved by an Approved Asbestos Inspection. Authority must be followed during demolition, alteration, stripping, removing, repairing, gleaning or high-pressure water jetting of any structure containing asbestos lagging or insulation.
Only contractors that are registered with the department of labour may do any demolition work where asbestos containing material is present
Regulations are followed for the disposal of asbestos waste product.

Safety and compliance are critical in the removal of asbestos containing waste and Ecotech Africa has experienced specialists in the process of asbestos removal and the regeneration of the location.
Ecotech Africa offers a holistic service to clients to ensure regulatory compliance to our clients. Our services include:
Asbestos Inventories
Surveys
Asbestos Management Plans
Demolition & Removal
Transportation
Safe Disposal
Training & Awareness

Ecotech Africa is registered with the department of labour as an Asbestos contractor for the safe removal of any asbestos containing waste. All our operational personnel are trained in the removal of asbestos and only registered and approved transporters and disposal sites are used.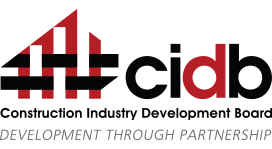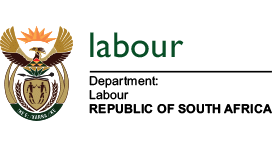 Recent & Current Projects
Stay up to date with all our new Projects - Follow us on Social Media